If your looking for birds on this one...give it a miss!
While listening to Talk Sport last week (Keys and Gray to be precise) I was fascinated by an interview with Pete Waterman. He obviously talked about his love of Football (can't understand why he supports Coventry!), his Music and...Steam Trains?
It took me way back to my young days in the 60's (did I say 60's?) growing up in the small Lancashire town of Bury, carrying my mum's shopping down "the Baltic" (an affectionate name for the elevated road into the town centre). The road became a bridge over the railway line and I always hoped we'd time our walk so I could catch a view of one of the ever decreasing steam train fleet. Diesels were fast taking over but that just made the sighting of a "steamer" all the more special. I spent many a holiday travelling around Lancs trying to tick off as many remaining steam trains as I could. The magic moments though were when a "namer" (a train with a name!) or even better a Britannia class 70000 shot through Bury by chance...links here with a rare bird?
Where is this leading I here you ask...
Well, like I said it's confession time...
I used to be a trainspotter!!! Surely links here with being a Birder? Lists, chasing birds/trains. No doubt.
I am obviously aware of all the private railways and the incredible volunteer work that goes on throughout Britain but I wasn't aware of the amount of mainline opportunities there are out there to view these trains were they should be. Thundering along the mainline and through stations. Things with real atmosphere and character, bringing the railways to life and giving yours truly a real buzz when seen.
I've always wanted to see the Settle to Carlisle section of our rail network, so I'm booking a trip for us next year starting at Manchester Victoria. Looking forward to it already. A trip to Chester next Saturday will start my tribute to these beasts as Britannia steams in at 1pm. Full line up can be found
here
if your interested (which your almost certainly not!).
So, there it is, my secrets out. Seemed a perfect time to come out while I sit through another Saturday night Karaoke!

70013 Oliver Cromwell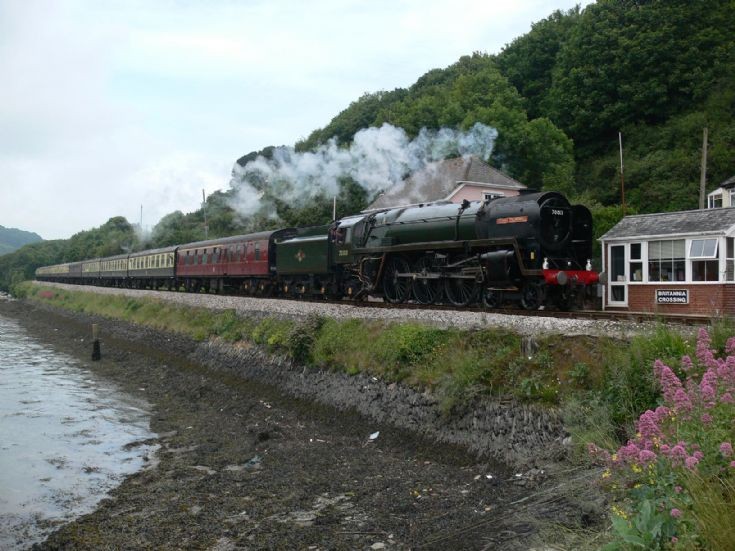 70000 Britannia

Mallard 1938! World speed record holder. Now in National Railway Museum, York
 
Feel better for that! No secrets here. It's still (mainly) a Bird Blog though...